Elevator maintenance for carefree elevator usage
The elevator installations that we maintain have an average of just 1 breakdown per year. This compares to almost 3 breakdowns for elevators that are maintained by other companies. See how we approach elevator maintenance so that your elevator (almost) never breaks down.
"Minimum noise, vibrations and, above all, a minimum number of breakdowns. Good elevator maintenance means that your elevator works without a hitch."
Alex Admiraal
Sales Manager Service
Highest availability
A broken elevator causes problems. People or goods can't get to their floors, work comes to a halt and repairs cost money. To prevent this, we only work with materials and parts of the very highest quality and have meticulous maintenance methods.
And this approach works exceptionally well! Elevators maintained by us have the lowest rate of breakdowns in the Netherlands and Belgium. The graph shows that elevators that are not maintained by us are out of service for an average of 90 hours per year. The elevators that we maintain are out of action much less frequently.
Hours out of service per elevator/year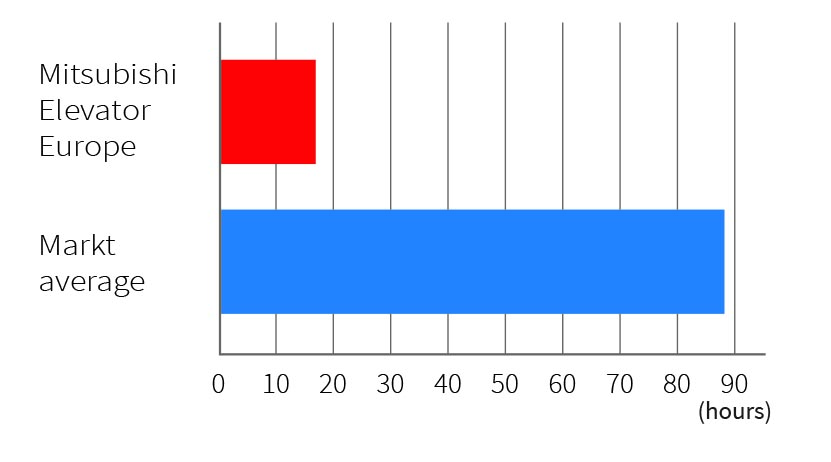 Elevator maintenance: always available
We are here for you 24 hours per day, 7 days a week, throughout the Benelux and Germany. Our engineers are also available in the evening, at night and over the weekends.
We train our engineers in-house. They are always in training to ensure they are always able to carry out the right maintenance.
From maintenance plan to service
With our elevator maintenance plan, you always know what to expect. You will have a maintenance plan that matches your elevator and requirements. This is how it works:
Initial contact
Once we've received your request, we will contact you to discuss the requirements. We will then plan an appointment for an elevator inspection. This inspection is free and there is no obligation to sign up.
Maintenance plan after elevator inspection
The elevator inspection is the departure point for elevator maintenance. In consultation with you, we will draw up a maintenance plan. This professional plan is created exclusively for you and is based on the type of elevator and intensity of use.
Servicing
If you approve of the plan, we will start work. The plan will list all scheduled maintenance.Our maintenance methods include carefully checking all elevator components. This can't be rushed and is much more than a quick, 20-minute check. Our services take an average of 108 minutes.
A reliable partner in elevator maintenance
We are transparent in our work and invoicing. If you like, you can receive a clear maintenance plan (MJOP) and a clear management report thereafter. The communication runs via a fixed contact person who knows precisely what good elevator maintenance means to your building and users.
Elevator maintenance that is right for you
Every situation requires a different type of elevator maintenance. That's why you'll receive a personalised maintenance plan. We won't carry out any unnecessary maintenance and you won't pay any unnecessary costs. These are the 6 most important areas that we focus on:

Make
We maintain our own Mitsubishi elevators but also other elevator brands. During the inspection, we will offer the right advice, attuned to your elevator.

Usage intensity
How often is the elevator used? This is a vital consideration when planning maintenance and preventing breakdowns.

Type of user
Who uses the elevator? Are they residents or personnel? Or is the elevator also used as a service elevator to transport goods?

Age
Just like other products that you use every day, the age of your elevator is a significant factor. We will examine usage and the corresponding wear and tear.

Type of elevator
When choosing a specific type of elevator, we take into account the lifting capacity but also the various requirements in relation to comfort and size.

Environment
Environmental factors also play a role. Where is the elevator located? Is it behind closed doors or outside in a car park or at the supermarket?
Customised servicing
Our service engineer knows exactly what he needs to do and when. Thanks to our service engineers, we have had the lowest breakdown rate in the Netherlands for years. But what does maintenance actually involve?
Before work starts
Our service engineers report to the reception or with building management. They find out whether there are any specific features that they need to be aware of and discuss these with the person concerned. All of the issues regarding the elevator are noted in the elevator log book. This allows anyone who is involved with the system to find out what is going on, at a central point.
Work in and around the elevator
The engineer checks the elevator inside and out and from top to bottom. The most common issues involve the elevator doors. These can generate persistent problems. The engineer will check to ensure the rubbers are in good condition and whether there are dents in the door or wall covers. The engineer will also check the elevator controls, lighting, motor, brakes and cables. He will also test the alarm and make sure it is connected to our central control room.
Maintenance contract
On the basis of the maintenance plan, we then draw up an elevator contract. You can choose one of our standard contracts or a more personalised agreement. Whatever you choose, we will be sure to fulfil our obligations. This means not too much but also not too little maintenance. So our elevators are kept in the very best condition and you always pay a reasonable price.
Want to raise the bar in terms of your elevator?
Want to know more about how we can maintain your elevator? Contact us to make an appointment for a no-obligation elevator inspection.
Contact us
Our customers have their say
Want to know what our customers think of our elevator maintenance programme? Read what they have to say below.
" A great company to work with; they always stick to the agreements and are great at communicating with the customer. This applies to servicing, renovations and modifications. "
Work planner, Property management and maintenance, Rijnstate
" Our annual costs with M-Use® are € 900 lower than they used to be. That is excluding all of the energy savings. "
Board member VvE De Eshof, Rijssen
We now service 4,000 elevators