Elevator modernisation:
make your elevator as good as new
Not happy with the look and performance of your elevator? You don't have to rush out and buy a new one. Choose elevator modernisation and save money. Find out if elevator modernisation could be suitable and what the advantages are.
When should you choose elevator modernisation?
After a no-obligation elevator inspection, we will consult with you and decide whether renovation is the answer. The 3 most important reasons for elevator modernisation are:
User needs change
"Because we were getting more and more elderly residents, the average age rose to over 60. The elevator has to accommodate this change. Updating the elevator was the most sustainable option." – Harold Derksen
Saving money
"Just by chance, we bumped into an elevator specialist at Building Holland last year. He explained the relationship between energy consumption and elevator modernisation. And that energy consumption could be reduced by 70% relatively easily." – Mike Janssen
Appearance no longer up to scratch
"Times change. Our mission is to encourage more start-ups to take up a tenancy in our offices. Our elevator renovation quickly bore fruit and helped us to convince start-ups to lease our space." – Charlotte Wens
How we can update and renovate your elevator
New type of elevator
Elevators in old buildings often use hydraulic systems. They work with oil pressure and require a great deal of maintenance. This can be irritating and lead to high costs. That's why we often replace these elevators with traction systems. As a result, you will have lower maintenance costs and fewer breakdowns.
Automatic elevator doors
An elevator door that you have to open manually is not up to standard any more. We can replace these with automatic doors relatively quickly. This minor alteration is often carried out for VvEs (Associations of Owners) and housing corporations. It makes the elevator experience much more pleasant.
Increase speed
Nobody wants to wait ages for the elevator. A slow elevator can cause delays, particularly in a high building. Old elevators offer a speed of 0.5 m/s. We can increase this to 1.0 m/s. This is the standard speed for elevators nowadays. It means more people can use the elevator.
Elevator without machine room
An elevator with a machine room takes up a lot of space. We can replace this type of elevator with a system that doesn't need a machine room. This frees up space for you. This can be a very valuable benefit in commercial property; the space that was taken up by the elevator can now be rented out.
Duplex system
Some buildings still have paired elevators. One stops on the even floors and the other stops on the odd floors. We can transform these elevators into a duplex system. Then both elevators stop on every floor and waiting times are reduced.
M-Use®
Want to rid yourself of high, unpredictable maintenance costs? More and more customers who are updating their elevators are opting for M-Use®. This unique model lets you use the elevator but we continue to own it. We are responsible for providing a working elevator and you pay a fixed amount.
Carefree planning for elevator modernisation
When you update an elevator, it will be out of service for a short while. But that's a bit tiresome for users. We incorporate your wishes in our plans and ensure that the elevator is up and running again as quickly as possible. If there are multiple elevators, one will always be available. Is there just 1 elevator in the building? Then we can organise a replacement elevator or stair-assistant if necessary. The inconvenience for users during the work will be kept to a minimum.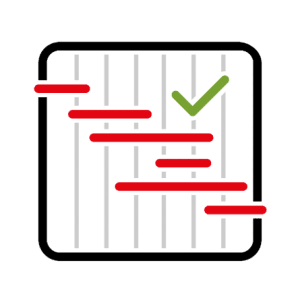 A reliable partner for elevator modernisation
If you need your elevator renovated, you've come to the right address. We have over 65 years of experience in this respect. Because we design and manufacture the elevators in our own factory, we can easily estimate which renovation aspects would be most suitable for your situation. As well as this, we are also involved in every stage of the renovation process. From advanced advice to structural adaptations.
Enthusiastic about the possibilities? Make an appointment.
Our customers have their say
Curious about why other customers have chosen our elevator modernisation? Read about their experiences.
" A great company to work with; they always stick to the agreements and are great at communicating with the customer. This applies to servicing, renovations and modifications. "
Work planner, Property management and maintenance, Rijnstate
" Our annual costs with M-Use® are € 900 lower than they used to be. That is excluding all of the energy savings. "
Board member VvE De Eshof, Rijssen
" Proactive partner which sees things from the perspective of the customer/user and can respond to your requirements with a suitable elevator solution. "
Senior plan developer, Giesbers
" I've just been to a meeting of the VvEs (Association of Owners) in Dokkum. I heard that some people are paying around € 34,000 to renovate an elevator. This type of issue is something we just don't need to worry about. "
Board member, VvE Grimma Herna Dokkum
" With M-Use®, the ABN AMRO can be sure of the quality and costs over the coming 20 years. "
Senior Procurement Consultant, ABN Amro
" Our annual costs with M-Use® are € 900 lower than they used to be. And that is excluding the energy savings. "
Board member VvE De Eshof, Rijssen
We have already
updated around
2,200 elevators